About Cousins
Fact File - Company Established 1969
• 1969 - 2019 (50 Years Anniversary)
• Location: Maldon, Essex, U.K.
• Founder: Ted Cousins 1936 - 1998: St Loyes College (Watchmaking)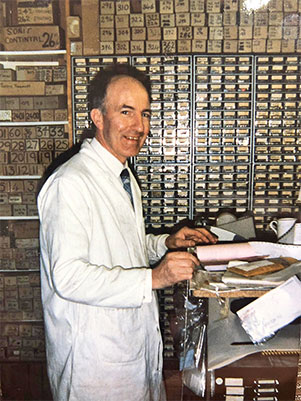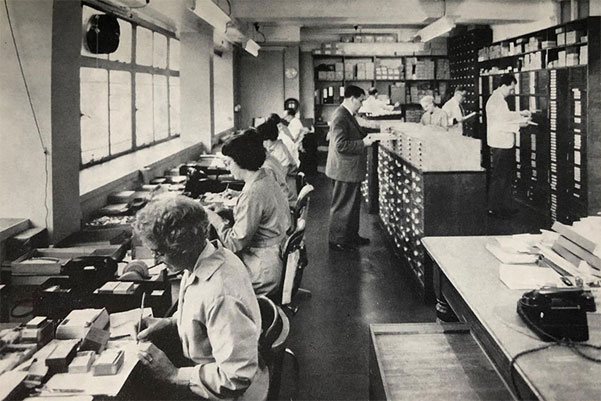 Ted (above, circa 1980) and Ted (far right) working at Henri Picard & Frere Ltd in the late 1950's, selecting watch spare parts.
• Current M.D. Anthony Cousins (1963): Hackney College London (Watchmaking)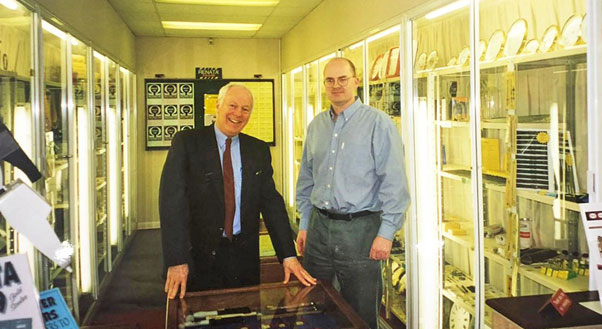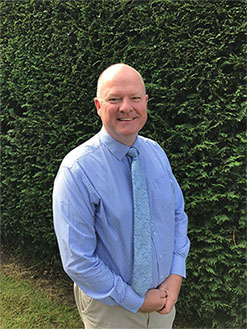 Anthony (above left) welcoming Jim Lazarus, President of L&R Cleaning Fluids Manufacturer Company, circa 1992.
Ted was a watchmaker who also began to supply the occasional parts to other local repairers. Our company is now run by Ted's son, our current M.D. Anthony along with his son Sam and employs 40 staff serving the horological & jewellery trade with jewellery, watch & clock tools, equipment, consumables, jewellery findings and millions of component parts for watches and clocks.
The Cousins management team firmly believe that the combination of our global collaboration with the biggest and best manufacturing names, plus some significant acquisitions along the way and highly motivated staff have been the bed rock for progress and has positioned Cousins at the forefront for service and value.
Our Microsoft Software computer stock control, make a reality of our pledge to our customers of "same day mail order dispatch, from stock at highly competitive prices". From large machinery or a tiny wheel, the pledge still stands.
Our "unique" automatic freight calculator provides in advance of placing your order the additional information of cost and a choice of available delivery services to your destination. So wherever you are in the Country or the World you know in advance the total invoice price.
At Cousins we take the business of serving the jewellery, watch, clock and allied trades very seriously with our modern selecting methods & procedures and an unparalleled willingness to invest in huge stockholdings of tools, equipment, consumables, jewellery findings and millions of component parts for the watch and clock brands available.
Please allow us to show you our range of products and services and say a thank you for visiting cousinsuk.com. What follows is the rationale supporting our progress as a trade to trade supplier and subsequent expansion from the fledgling few rooms on the outskirts of London in the 1960s, to the now massive warehouse in Romford Essex.
In addition from 1997 (before our internet days) to March 2013 we opened in the midlands our showroom in the heart of the celebrated Jewellery Quarter of Birmingham. Over this period of time our website popularity has grown to now be over 95% of our customers preferred method of trading.
In 2003 a major expansion took place at our Romford main facility effectively doubled our warehouse size. Simultaneously we enhanced our state of the art product location and picking programme with a large investment in racking and storage containers to accommodate the rapidly increasing inventory. These improvements allowed us to both completely modernize the site and streamline our entire operations and stock management systems, thus ensuring the ongoing and key issues for our customers of efficiency in all areas, we monitor every order from the moment it is received right through to despatch.
For new customers we can assure you of a fuss free gateway to our company with a choice of settlement options plus generous credit terms of up to 60 days following agreement. We have no minimum value order and all business is welcomed.
Each member of our staff is dedicated to their duties and fully understands their responsibilities, both as individual links in the chain here as well as being an important element in the vital teamwork needed in all departments of our operation. Specific training and judicious recruitment has equipped our business with wide and relevant experience in all fields. Technical Selectors, Customer Services, Packaging & Dispatch, Purchasing and Accounts and more – all working hard to deliver a skilful and friendly service.
Despite the problems obtaining watch parts the business continued to grow, and once again was being held back by lack of space. Repeated offers had been made to buy a neighbouring unit, but it wasn't possible to reach a deal, and in 2019 the company began widening its search. In the Autumn, the location in Maldon came on the market, and the company moved quickly to acquire it.
The unit was the headquarters of Wolf Race Wheels. It had the potential to offer Cousins six times the space of its Romford base, but whilst the bones of the Maldon site were ideal, the building would need a great deal of updating.
Architects were engaged in October of 2019, and designs were completed and submitted to the Council for approval. Cousins took possession of the building on the First of February 2020, and an extensive building program began lasting 11 months.
New fencing went up to secure the site. A new insulated roof and wall cladding system were installed. The toilet block, staff facilities and offices were all extensively remodelled. A secure container for hazardous materials was placed outside, and a comprehensive air conditioning system went in to protect the stock and provide the best possible working environment. The building was completely rewired. Fibre optic cables were laid, and a fully updated data network with digital CCTV was installed.
For further information and photos click on https://www.cousinsuk.com/history